THIEF OF HEARTS
"Beautiful Canadian-born actress Barbara Williams is both intense and believable..."
Bruce Williamson, Playboy
"..A good cast including Miss Williams a beautiful canadian actress new to American films..."
Vincent Canby NY Times
"...Bauer and Williams are appealing
as the star crossed lovers."
Rex Reed.
"...the debut of a terrific new actress,
a Canadian named Barbara Williams, who in
facial appearance strikes me as a sexy cross
between Barbra Striesand and Meryl Streep."
Gary Franklin, KCBS-TV,
Los Angeles, Oct. 19, 1984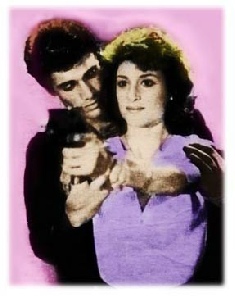 THEY COME AT NIGHT
A two hander with Elpidia Carillo playing a Salvadoran torture victim who ends up in Sara's (Barbara Williams) clinic after she tries to commit suicide. This film deals with the very brutal reality of Central American immigrants whose lives have been ravaged by war trying to adjust in a city with little
sympathy for their suffering.
"..knock out performances"
Mill Valley Film Festival Revue
DIGGER
Barbara plays a woman despondent with grief over the death of her baby. With Olympia Dukakis, Leslie Nielsen and Timothy Bottoms.
OH WHAT A NIGHT
A coming of age comedy/drama
with Barbara playing
the older lover who leads Corey Haim
into manhood.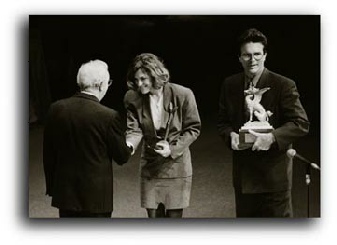 CITY OF HOPE
Barbara (above) fills in for writer/director
John Sayles at the Tokyo Film Festival,
accepting the best film award for "City of Hope"
from the Mayor of Tokyo.
TIGER WARSAW
Patrick Swayze plays an emotionally
broken man
who returns home after a long absence to heal
old family wounds.
Barbara plays his first love, now a veteran of an abusive marriage with two kids.
KRIPPENDORF'S TRIBE
Starring Richard Dreyfuss, Lily Tomlin,
Jenna Elfman, Natasha Lyonne.
FIREBIRD 2000
"A Canadian "Road Warrior."
In Barbara 's first movie,
she plays a futuristic motor cycle cop.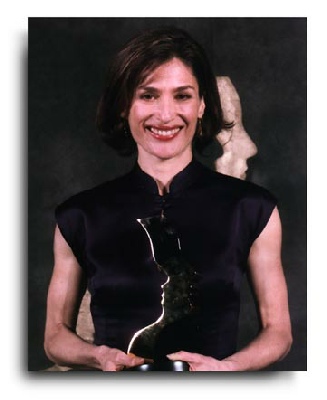 AWARD-WINNING PERFORMANCE
Barbara receives the Gemini Award
(Canadian Emmy) for her role as Diana Kilmury
in "Mother Trucker: The Diana Kilmury Story"
BONE DADDY
Barbara plays an emotionally shut
down Chicago Cop searching for an evil
sadist. With Rutger Hauer.
Naked City
Directed by Peter Bogdonavich
Family of Cops
With Charles Bronson , Joe Penny,
Angela Featherstone and Sebastion Spence
The Joe Torre Story
Star Trek: The Next Generation
Picket Fences
Spenser For Hire
Country Estates
The Hidden Room
Against the Law
Keeper of the City
Men
Peter Gunn
PREPARING
"...the young actress rose well to the occasion.
It is a difficult role because of the many transitions undergone by the character.
Miss Williams displayed a fine sense of this
highly fluid structure and the result was
a most captivating hour."
Bob Allen, Vancouver Province
NIJINSKY
"Barbara Williams, as Romola, supplements the Nijinsky part - beautifully, mixing concern and understanding with simplicity and subservience..."
Max Wyman, The Vancouver Sun
"Nijinsky and his wife, Romola perform splendidly; sliding easily from character to character and changing emphasis or mood with the experience of seasoned performers."
Joseph Erdely CBC radio
EIGHTEEN WHEELS
"But, personally, my heart belongs
to Barbara Williams.... she sings with just
the right inflections for country music,
and is as sexy as a Dolly Parton with
everything in proper proportion."
Richard Ouzonian, CHQM Entertainment
as Lady MacBeth
Directed by Des McAnuff at the La Jolla Playhouse
"Williams is a Lady MacBeth whose ambition matches that of her husband, a forceful, persuasive woman who ripples with sensuality... very effectively done."
Bill Hagen, San Diego Tribune
SUDDENLY LAST SUMMER
Barbara's first stage role was playing
Catherine Holly, for which she won the British
Columbia Drama Award for Best Actress.
ROCK AND ROLL
"...Rock and Roll feels more like a concert
than a play. ... Williams has the best voice
in the production; warm, strong and
expressive, this lady could sing anything."
The Toronto Star
"Barbara Williams is certainly
an actress to watch... she is by turns
spirited and quite endearing."
Ottawa Citizen
"Barbara Williams provides the sort
of sex appeal that teenage boys yearn for..."
McKenzie Porter Toronto Sun
DREAMS DIE HARD
Playing Joan Baez at the Met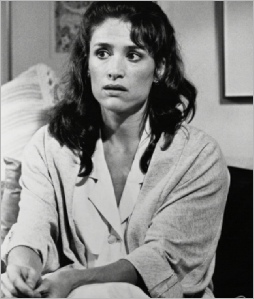 As Nora in "The Watchers" (1988)
directed by Jon Hess
with Corey Haim
Barbara Williams on IMDB