Barbara's first memoir "The Hope In Leaving" received
critical acclaim.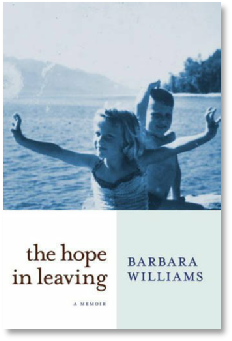 "The Hope In Leaving" is now available through the following retailers. :

"If you appreciate Mary Karr and Jeannette Walls, you'll want to read Williams's eloquent memoir of growing up in and out of the harsh lumber camps of British Columbia. In an honest, compelling voice devoid of self-pity, she tells of finding solace in nature's beauty, of grasping for shards of love. Through this painful, riveting journey, the bright, curious child manages to grow into a resilient, hopeful artist." —Jane Fonda
"Authentic. Human. Unselfconscious. Beautifully crafted. The Hope in Leaving is a jewel of a book." - Helen Hunt
"Barbara Williams is the daughter of wanderlust. She grew up in logging camps, skid roads, and temporary homes on Vancouver Island and mainland British Columbia. Her father was 'Handsome Jack,' the man who danced on tree-tops and was always saying goodbye. Indeed this is a book of leavings and disappearances where home is little more than a random path within the epic immensity and sorrow of the Pacific Northwest. In exquisite prose, always wary of self-pity, she tells the story of a brotherhood of semi-nomadic forest workers, their dangerous jobs and shattered families. The genre is deceptive: imagine a "coming of age story" but written by John Steinbeck." Mike Davis
"Barbara Williams has written a breathtaking, ruthlessly poetic coming of stage; a memoir that reads more like a hardscrabble book of common prayer. Hope In Leaving is a born writer's pure and savage plainsong, a ghost dance summoning family, hope, endurance, and the transcendence of love." - Bruce Wagner
"… an unforgettable group portrait of survival and grit under the sign of a dark shadow." – Steve Wasserman (Publisher at Heyday)



Globe and Mail
The Hope in Leaving is an incredibly powerful offering, delivered with rare grace and strength given its painful subject matter. With it, Williams has proven the most powerful storytelling is that which trusts readers to feel its impact without instruction, and find meaning without guidance.
Full review:
Review Issue Date: January 1, 2016
KIRKUS REVIEW
Online Publish Date: December 20, 2015
Publisher:Seven Stories
Pages: 208
Price ( Hardcover ): $23.95
Publication Date: March 15, 2016
ISBN ( Hardcover ): 978-1-60980-672-9
Category: Nonfiction
A Canadian-born actress's account of how she survived—and then left—an impoverished and dysfunctional family. When Williams was 24 years old, she decided to leave her hard-luck family to follow her dream of becoming an actress. But on the day of her departure, she discovered that her brother Randy had killed himself with a shotgun. In a narrative that moves between the events surrounding the aftermath of that death and her past, Williams tells the story of her troubled family. Her mother, Simone, was a trade school dropout who exchanged "a future vocation for immediate affection" with Jack, a hard-living, hard-drinking man who worked primarily as a logger and occasional day laborer. Throughout the author's childhood and adolescence, the couple moved more than 25 times and had more children than they could afford. Over time, Jack took to living part-time with the family, causing even more instability. Poverty and injustice dogged them at every step as the relationship between Williams' parents deteriorated and a desperate—and desperately unhappy—Simone tried to commit suicide. The one person in the family who seemed most affected by their problems was her sensitive, musically gifted brother Randy, who began hearing voices and cutting himself in his late teens. Though Williams herself showed musical promise as a singer, she dropped out of high school believing that "the [only] way to get ahead was to get to work." However, her involvement in community theater brought her an opportunity to study drama at a theater school. Part of what makes this book so compelling is the tragic mirroring Williams depicts between herself and her brother, both of whom found liberation from their family but in radically different ways. Searingly honest, the book is a testimony to one woman's resilience and ability to love in the face of unimaginable hardship. An unsentimentally candid memoir of hope and determination.
Link to Georgia Straight Review
http://www.straight.com/arts/763106/haunting-memoir-hope-leaving-travels-bcs-blue-collar-back-roads
Buy links:
http://www.audible.com/pd/Bios-Memoirs/The-Hope-in-Leaving-Audiobook/B01CF0HDL6?source_code=AUDORWS0304169GGO